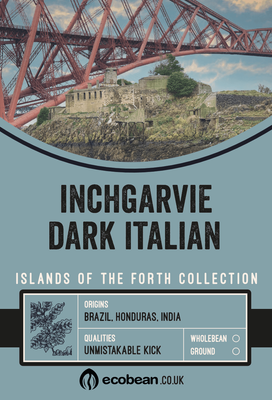 INCHGARVIE DARK ITALIAN
Islands of the Forth
£7.60
Buy on subscription
My thoughts: Clean, clear and crisp flavour notes with a smooth finish. Enjoy all day as an Espresso, Americano or Cappuccino to really enjoy the flavours of this truly special coffee!
This is a premium espresso blend which is perfect for those who love the traditional Italian style fuller flavoured espresso and latte or cappuccino. The coffees have been specially selected from Brazil, Honduras and India and blended together to deliver a truly amazing drink.
In the cup our Italian Style shows a very dense and dark brown crema. The flavour is strong yet smooth and gives fullness in the mouth. Balanced, with an after-taste of Caramel and Dark Chocolate
The beans are roasted to create a heavy, strong brew with a rich flavour. Characteristic of the popular Italian style, this espresso blend excels in its bite and smooth aftertaste.
SKU: 10080